Grilled Lobster Tails with Sriracha Butter
These simple Lobster Tails are grilled with a spicy sriracha butter for a delicious star entree for any meal.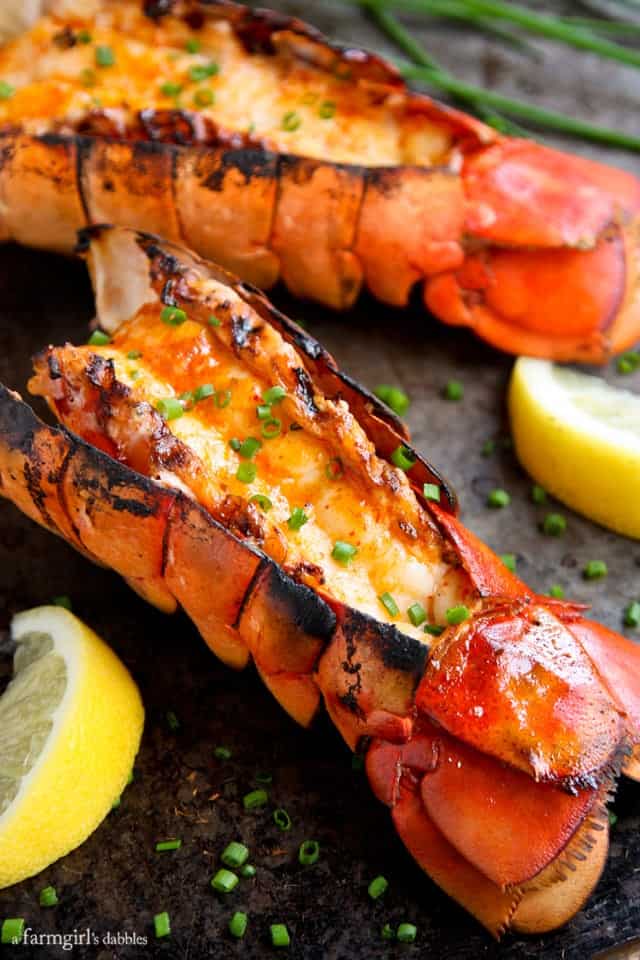 Hi friends, thank you so much for your warm welcome the other day on my Grand Marnier Macadamia Oil Cake post. It feels so wonderful to be back!
Following my surgery, I have a two-month period where I cannot bend, lift, or carry anything greater than five pounds, so I'm not able to cook unless my husband Pete is home to help me. I will still be posting at least one new recipe a week from here on out, but to help provide more recipes to you during this initial recovery period, I've asked a handful of my favorite food bloggers and friends to guest post. These are all people who I really admire and know you will love!
Today please give a warm welcome to my friend Brenda from A Farmgirl's Dabbles. And actually, please give her an extra warm welcome because today is her birthday! Happy Birthday Brenda!!!
Brenda is one of the most kind, caring, and loving people I have ever met. Doesn't she have the most precious family too? She's one of those people that you feel grateful and blessed to know and have in your life. Welcome Brenda, and take it away!
Hello! I'm Brenda from a farmgirl's dabbles, and I'm delighted to be here with Joanne today. What an awesome courageous lady she is…an inspiration for all of us. I am so happy that she's found some relief for her pain, and am still counting on a full recovery!
I first met Joanne last summer in Chicago during the BlogHer conference, and immediately liked her. But it wasn't until we were joined together as "butter buddies" earlier this year that I've gotten to know her better. Riding a couple hours with Joanne in a vehicle from Tulsa to The Ranch, I became smitten. She is a city girl, through and through, and it makes me giggle every time I think about watching her eyes scan those Oklahoma grasslands, looking for the slightest hint of civilization. All she could say was "wow", over and over, day after day.
And so I'm ultra excited to experience the tables being turned around, when the farmgirl (me) travels to NYC this summer to visit Joanne in her own high-paced comfort zone. I get excited driving into downtown Minneapolis (not kidding)…just imagine how many times I'll be saying "wow" while spending a few days with her in her Manhattan home!

Now let's get down to some serious summer grilling deliciousness. Grilled lobster, anyone?!
My husband is great on the grills, and he knows how much I love seafood. So for the past few years, Blake has been treating me to seafood on the grill each Mother's Day. The first year he grilled enormous bacon wrapped scallops, and then last year he had me at his mercy with sweet and smoky grilled salmon (even fish naysayers LOVE this!). Another favorite is grilled Caribbean jerk shrimp. And this year he went completely crazy and brought home a couple lobster tails. I'm not gonna lie…I felt absolutely spoiled. What a treat!
So I have now officially called "Seafood on Mother's Day" a tradition for our family, and have let Blake know this loud and clear. Because he needs to fully comprehend the fact that traditions happen year after year. No fail. Always and forever. (Amen!)
I know that grilling lobster tails intimidates some people. But please know that they are ultra easy to prepare. Blake did everything on Mother's Day, from purchasing the tails to washing the dishes after we ate, so I really had no idea what was involved with the process. But I got in on this next round and couldn't believe how easy it is. If this meal didn't make such a dent in the wallet, I'd be eating it every single week!
These grilled lobster tails make for an incredible meal, perfect for celebrating special occasions. The lobster meat is firm and luscious, with a bit of contrasting char and smoke from the grill. Topped with a sriracha infused butter, it has just a bit of a kick. So nice. It'll have you thinking about creating your own annual grilled seafood tradition, I'm quite sure of it!
Thank you Brenda! The photos of these grilled lobster tails…oh my goodness! I can't wait to try these lobster tails out this summer. You can find Brenda's full recipe below in the recipe box.
Here are a few of my personal favorite recipes from Brenda's blog:
Espresso Brownie Bites with Kahlua Buttercream Kisses:
Zesty Sweet Corn Refrigerator Relish:
Peanut Butter Pie with Mississippi Mud Fudge:
Enjoy!
Grilled Lobster Tails with Sriracha Butter
These simple Lobster Tails are grilled with a spicy sriracha butter for a delicious star entree for any meal.

Ingredients
2 8- oz. lobster tails
4 T softened salted butter
2 T. sriracha
chopped fresh chives
fresh lemon wedges
Instructions
If lobster tails are frozen, thaw them completely. To hasten thawing, place lobster tails in a ziploc plastic bag, zipped tight. Then place bag of lobster tails in a large bowl and run cold water over it. Let sit for about 10 minutes, submerged in the water, and then drain and repeat the process two more times. Rinse tails lightly and pat dry with paper towels. Butterfly the tails by cutting lengthwise through the centers of the hard top shells and about half-way through the top of the meat with a kitchen shears. With your fingers, press shell halves of tails apart. If you see a dark line running down the center of the meat, that is the digestive tract (it may already be completely removed or only partially removed). To fully remove it, simply grasp it with a paper towel, pull it out and discard. Insert a metal skewer down the lobster tail so the tail stays straight and doesn't curl up on the grill.

In a small bowl, stir butter and sriracha until well combined.

Heat grill to medium-high, about 475°. Spread about 1 tablespoon of prepared sriracha butter over the meat of each lobster tail. Place tails on the grill, meat side down on the grates, for about 4 to 5 minutes. The lobster shell should turn bright orange in color. Flip tails over and spoon another teaspoon of sriracha butter onto the meat of each tail. Grill for an additional 3 to 4 minutes, or just until lobster meat is opaque. Do not overcook or the lobster meat will be dry. Remove tails from grill and let sit for a couple minutes before serving. Sprinkle with fresh chives. Serve with fresh lemon wedges for squeezing over the tails and additional reserved sriracha butter.
Nutrition
Calories: 244kcal, Protein: 38g, Fat: 9g, Saturated Fat: 5g, Cholesterol: 308mg, Sodium: 1144mg
Nutrition is estimated using a food database and is only intended to be used as a guideline for informational purposes.